Therapy Rooms To Rent in London on Harley Street
Would you like to practice on Harley Street, the most prestigious medical address in the country, but have found the expense and commitment involved in taking a lease on your own Harley Street consultation room prohibitive. Then, think again.
The answer is to use our Harley Street consulting rooms to rent on a sessional basis.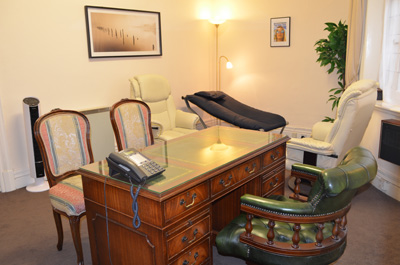 If you're just starting your business or see a small number of clients a month in Central London, then why not join the Westlake Clinic.
We offer a cost effective alternative to renting your own Harley Street office space.
In our eighth year, the Westlake Clinic is a well established alternative health organisation, promoting the very best care on Harley Street. Download our brochure.
How does it work?
You choose the session/sessions to suit your needs and then use the consulting room for the same time slot on the same day every week.
Each session is 4 hours in length and the costs are very reasonable at only £55 per week inclusive.
Your initial commitment is only two months and thereafter, your agreement is based on a month by month basis.
Harley Street - Centre of medical excellence
Harley Street has a worldwide reputation for a centre of medical excellence, where the best specialists practice - the ultimate address for any practitioner.
Not based in London?
Even if you're not based in London, the benefit of practicing in Harley Street should not be underestimated.
Many of our therapists have seen an increase in business at their existing practice, due to the 'Harley Street effect'.
Suitable for a Range of Therapies
Our spacious consulting rooms are ideal for a range of therapies, including hypnotherapy, counselling, homeopathy, nutritionist, psychotherapy, complementary therapies, psychiatry, life coaching, doctor's consulting room, bodywork, massage, etc.

Westlake Clinic Website
In addition to renting a consulting room, all practitioners have their own profile page on the Westlake Clinic website at no extra charge.




Benefits of Joining
Prestigious Harley Street Address
Attractive, spacious Harley Street consulting rooms, traditionally furnished
Your very own Harley Street Consulting Room
Own session times to see clients in Central London
Benefits existing practice due to 'Harley Street effect'
Practitioner's own profile page on the clinic website
Advertised on the Official Harley Street Guide
Suitable for a range of therapies/practices
No long term commitment - flexible monthly license
Regular 4 Hour weekly sessions - just £55 per week
Very low start up costs, all inclusive fee
No set up or licence fees
Additional adhoc hours available

Great Room and Perfect Location
The room is great and it is the perfect location for my practice - Dr Rao, MedicoLegal Practice

Central Location

Centrally located in London on Harley Street.
Just a few minutes walk for your clients from Oxford Street.

Hypnotherapist?
We also have consulting rooms available at the Harley Street Hypnotherapy Clinic

Therapy Rooms To Rent London
The Harley Street Consulting rooms to rent are located at 1-7 Harley Street, London, W1G 9QD.
Email: